Relay output 1W-UNI module enables to expand Ares 12 (and Ares 14) devices functionality by remote control of 4 relay outputs with a dry contact capable of up to 50V / 1A load.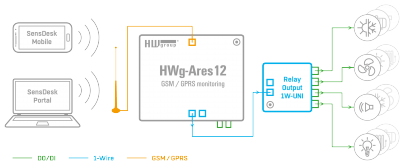 The Relay output 1W-UNI module always uses 4 sensor positions from the 1-Wire UNI bus limit, i.e. even when only 2 DO are in use, the unit blocks 4 positions.
To one active port (RJ11 connector of the Ares device) maximum of 2 Relay output 1W-UNI can be connected. To strengthen the power supply an external 5V adapter or a powered "1-Wire hub Power" accessory can be used.