Ares 10 LTE: features for IoT projects
Data transfer over the GSM / GPRS mobile network
Quick view to current data on SensDesk web portal
Mobile application, desktop apps
Sending data by e-mail, custom SW or third-party cloud  applications
LTE version in 3Q 2018
Ares 10 LTE units allow connecting to the Internet via an LTE/ GSM/ GPRS network. Data is transmitted via the HWg-Push protocol to the SensDesk public portal or HWg-PDMS software. Data can be emailed to PDMS, and the software downloads it from the POP3 mailbox or its secured POP3S variant.
The SensDesk IoT portal provides a quick view of current values on the mobile phone as well. It can display graphs of measured values up to 3 months back. It also includes the ability to set alarm messages via e-mail or SMS (with own HWg-SMS-GW3 gateway) in a cloud-like web page.
IoT PDMS software allows to collect all measured data and convert it to Excel format. It can then perform its own analysis. Excel reports from PDMS can be used to document environmental values for control bodies, for example, in pharmacies and the food industry.
The Ares 10 LTE is ideal for outdoor or mobile IoT applications because it has wide signal coverage thanks to GSM communications. Switching between BTS (base station - network cell) is up to 180 km / h automatic and without loss of communication.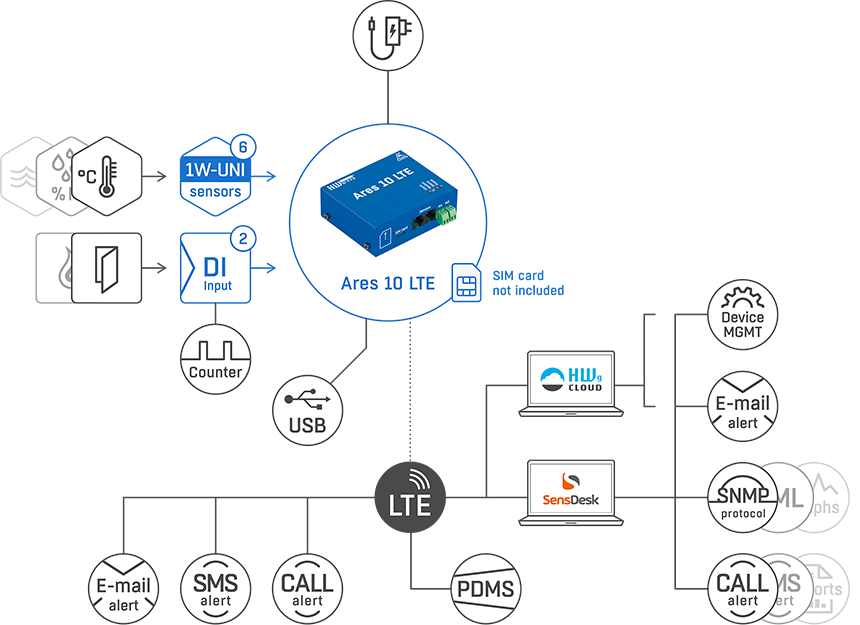 Differences between Ares 10 vs. Ares 12
|   | Ares 10 | Ares 12 |
| --- | --- | --- |
| 1-Wire UNI sensors | 6× | 14× |
| External outputs | NO | YES |
| Battery | NO | YES |