Choose any Sensor / Detector you need
Supports all 1W-UNI sensors (4 values)
Temperature sensors (Indoor / Outdoor / Cryo)
Calibrated temperature sensors
Relative Humidity sensors (Indoor / Outdoor)
CO2 & VOC sensors
Light sensor
AC / DC Current sensors
AC Voltage (0-230V) sensor
4-20 mA sensors (converter) for industrial probes
Water flood sensor (spot detection)
WLD (Water Leak Detection) by external sensing cable
Airflow detector
Door contact detector
PIR motion detector
Gas leak detector
Power presence (110/230V) detector
Vibration detector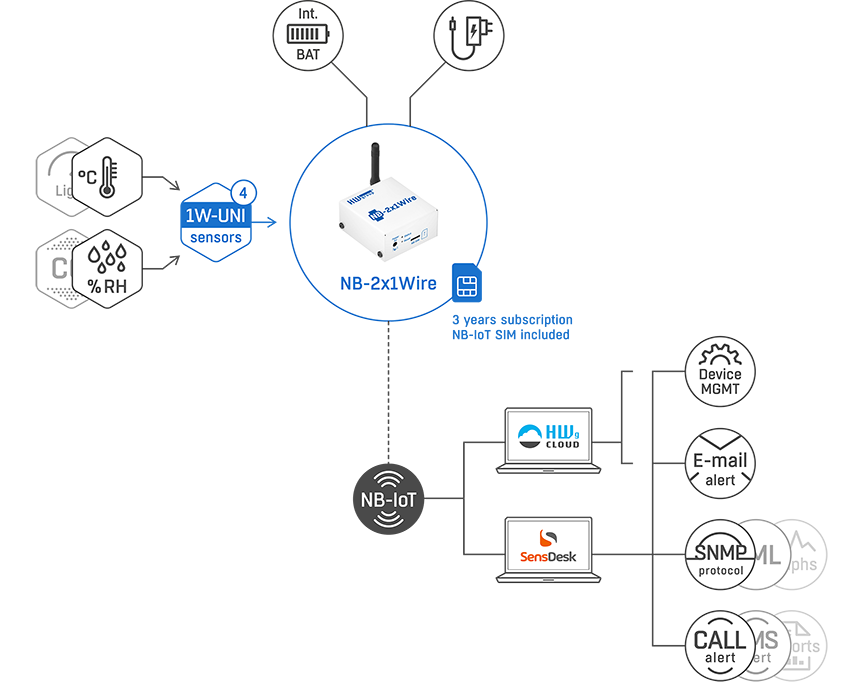 Sensor values in graphs & reports
You can easily create comprehensible reports with graphical representations of temperature in one or a number of locations.
SensDesk system showing sensor value graphs alerts you when the device is not working or any sensor is out of defined limits. For an example of working with charts in SensDesk, see the application note.
Subscribed device (delivered with prepaid NB-IoT SIM card)
Default version of this product is called "subscribed". It's delivered with 3 years prepaid NB IoT SIM card included by HW group. Connectivity is provided by Vodafone, device can be in used in most of the countries. Remote device management and sensors monitoring is available via SensDesk service. Contact us for details.
 
3rd party SIM card for NB-IoT
You can use your own sim card for NB-IoT network (not LTE) connectivity. Data can be delivered to your own hosted installation of the SensDesk portal.  It's recommended for projects 100+ devices..
Contact us for details.