Compatible Sensors & Detectors
Up to 5 external sensors (RJ11) + 2 DI detectors can be connected to the STE2 r2 device.
Follow everything online
Setting the device
Connect the STE2 r2 Thermometer to the network via a LAN or by using the built-in WiFi antenna.
The device has a built-in WEB server, you will need only a standard web browser. HTTPS is also supported.
Connect external sensors + detectors
Define Alerts

The device will alert you by email when the sensor value exceeds "Safe range" or the DI input is closed.
Email can be delayed or sent periodically. STE2 r2 supports also TLS so the Gmail SMTP servers can be used.
Use external SMS- GW3 for SMS alerts
SensDesk Technology Portal
SensDesk Technology portal together with STE2 r2 is a remote monitoring system. See this application note which describes how to create a user account and add a device to the SensDesk portal.
SensDesk portal offers simple configuration, central device management, and tools for remote overview of sensors
SensDesk portal will alert you even for STE2 devices disconnected from the internet.
SensDesk portal is able to send alerts (e-mail, SMS, Voice Calls), show graphs, create reports, store historical data, connect data via open API...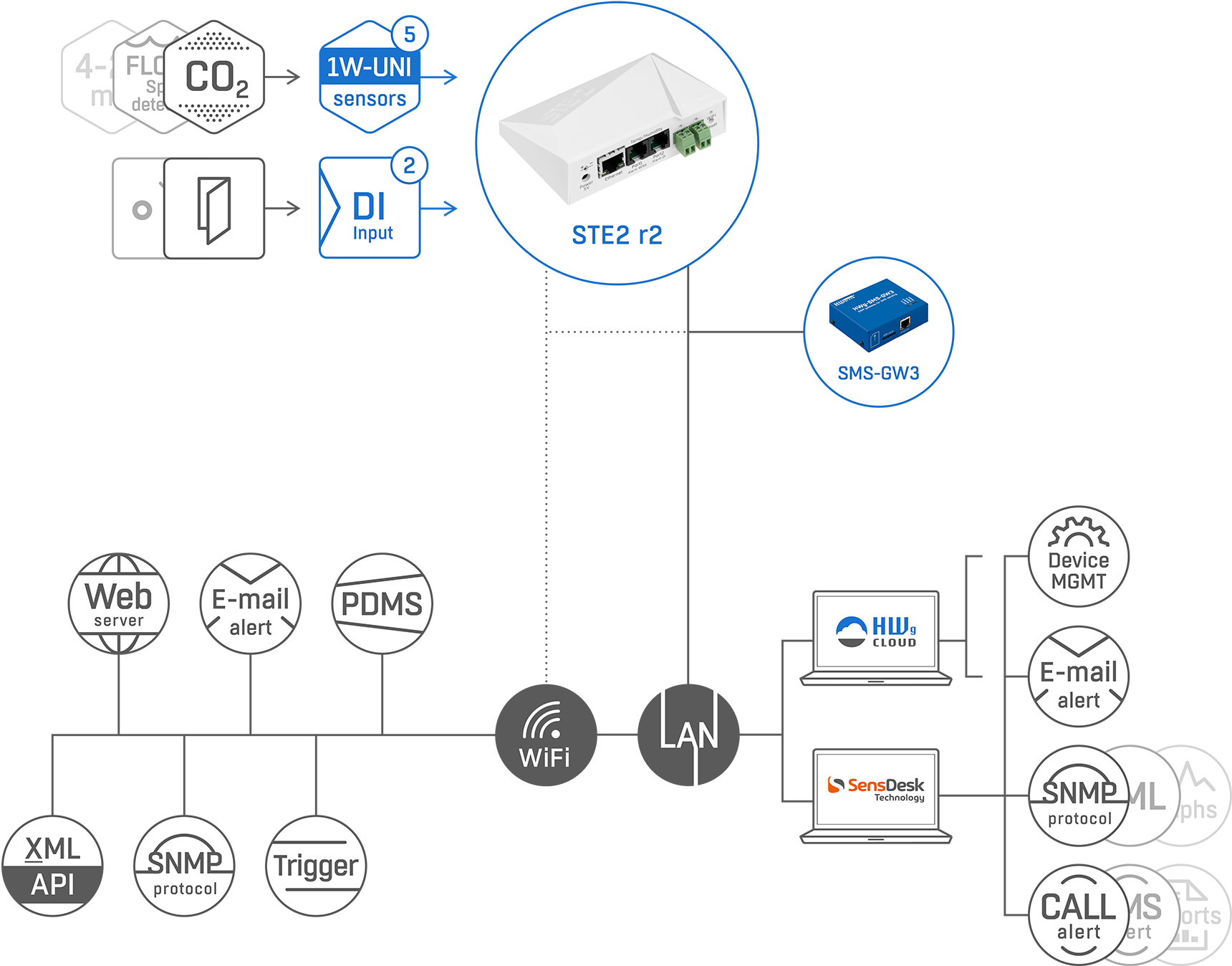 Sensor values in graphs & reports
HWg-PDMS
windows-based software allows you to transfer the measured values to graph form and export data to
MS Excel
. You can easily create comprehensible reports with graphical representations of temperature in one or a number of locations.
SensDesk Technology portal shows sensor value graphs and alerts you when the STE2 device is not working or any sensor is out of defined limits. For an example of working with charts in SensDesk, see the application note.
3rd party software or applications can use SNMP or XML Open API protocols.